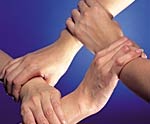 The Online (or Software as a Service) model targets credit unions of any size. Benefits of the Online model include a menu of enterprise processing services, including WESCO Net – a Virtual Private Network (VPN) offering a secured, high-speed link to access select business partners, virtual education, technical and client support services. Additionally, CU*SOUTH will manage client data communications and network security access to CU*BASE, while providing a single delivery channel for services such as PC Banking, Audio Response, ATM/ Debit and Credit card offerings. All of these are tightly integrated to benefit from the CU*BASE relational database structure.
The Online model incorporates TCP/IP networking, popular LAN/ WAN server technology, CISCO communications routers and firewall security to provide automated systems balancing and controls. To ensure maximum efficiency, the Online model is architected to be physically separated from CU*SOUTH Programming, Quality Control and Item Processing networks. Other Online model benefits include:
Minimal Capital Investment

An Online model eliminates upfront, long-term capital expenditures often associated with inhouse processing including equipment, software license fees, operations staff and more.

Future Growth Demands

Our Online model incorporates unlimited scalability as based future growth demands, without the client having to budget for or incur large capital outlays.

Eliminate Technology Obsolescence

Online clients typically deploy new member services faster. Since the Online pricing model is based upon a per transaction or event basis, clients benefit from eliminating cash layouts routinely required for keeping up with rapidly changing technology, and the financial risk associated with member indifference to those purchased products.

Operational Simplicity

End of day, end of month and year-end processing requirements become a non-event. CU*SOUTH literally becomes an extension of your staff for completing these processes. An added benefit is that Online clients are able to eliminate their dependence upon a single-operator shift having to support a 24/7 self-service product environment.

Disaster Recovery and Security

The Online model incorporates an extensive and layered approach to ensuring optimum performance and security safeguards. Back-up systems include transaction posting to redundant processing platforms, on-site battery and generator back-up, contracted IBM hot-site services, and Branch Sharing options; all for under 2 cents per member month!

Peace of Mind

The Online model eliminates the stress and worries often associated with managing an internal system. In many ways, it allows credit union people to focus upon what they do best versus having to become data processing and network security experts. What value do you place upon this? For many, an Online model provides the perfect balance for promoting quality member service while ensuring a regular and consistent approach to data processing.