CU*BASE GOLD Feature List
CU*BASE is an independent and wholly-owned data processing software product, supported and maintained by CU*South, CU*Answers and CU*Northwest. CU*BASE operates using the IBM iSeries RISC hardware platform with TCP/IP connectivity, supporting a variety of LAN/WAN networking solutions.
General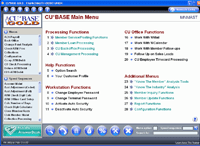 Comprehensive education, on-line help and reference tools direct to the employee's desktop via the CU*Answers network
Integrated Shared Branching options for disaster recovery and expanding member service without brick and mortar
Flexible, robust configuration options for savings, certificates and loans
Laser printing options including a complete line of user-defined laser forms: certificate forms, member notices, TIC disclosures and other new account forms, loan and member service denial notices, loan application and officer worksheet, available custom forms programming
CU control of employee access to menu functions
Member Services / Front Line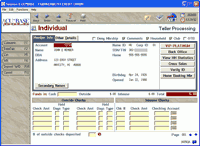 Teller Cash Dispenser integration (De La Rue, ARCA.CASH, ISS, Diebold, and Glory)
Automated funds transfer and check transfers
Phone software with configurable phone transfer fees
"New Member" alert comments
Savings Bond redemption tracking
Safe Deposit Box tracking
Laser-printed member starter checks
IRA beneficiary and payout tracking; automated payout transfers
Lending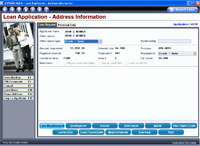 On-line credit reports retrieval and storage
Participation Loans tracking
Complete Centralized Underwriting system
Risk-based loan pricing and delinquency analysis tools
Tools to streamline the loan application process: auto-populated loan applications from the Household database, debt information from on-line credit reports
Tiered rates based on loan balance
Collateral title and property tax tracking
Configurable collections parameters and delinquency analysis tools; on-line collections monitoring system
Flexible interest and payment calculation options for business loans, mortgage loans, interest payment only; variable rate and indexed controls
Lease loan tools
Indirect (dealer) lending tracking
Pre-membership loan applications
LOC disbursement checks
On-line tracking of written-off loans
Accounting / Back Office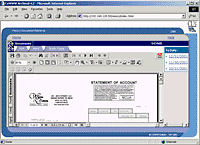 CU*SPY on-line retrieval of reports (90 days) and statements (12 months); CU*SPY CD-ROM archival of reports and statements
On-line inquires for easy accrual verification, daily G/L balancing
Integrated OTB system for on-line tracking of "off-trial balance" credit cards, loans and savings accounts; automated uploads/downloads with third-party vendors
CASS certification of member addresses
Regulatory compliance tools: AIRES downloads, FIDM and OFAC data match systems
Investment and subsidiary (fixed assets, prepaids, accrued expenses) tracking systems
Budget creation, analysis and tracking
Automated check reconciliation
Loan classification tracking for planning reserves
Accounts payable tracking
Streamlined back office monitoring tools: ACH, payroll, share drafts, ATM/debit cards, etc.
Configurable Reg. D tracking parameters
Dormancy and escheat monitoring
Marketing and Management Review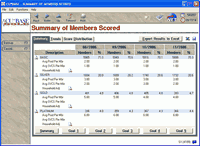 Help Desk inquiry for monitoring CU calls to CU*Answers Client Services
On-line Member Survey tracking and analysis
Cross-sales tracking system, including on-line marketing tips and product sales procedures
Telemarketing Leads follow-up system
Tiered Service Levels: automated rewards for member participation
Marketing Clubs: demographic clubs with automated status tracking, fee waivers and rate benefits
"Push Marketing" tools including messages via It's Me 247 Online Banking and CU*TALK Audio Response, email marketing, selective inserts for member statements, and CU-defined statement messages
Fully-integrated non-member database for non-member relationship tracking and potential member data mining
Household database and statistical analysis by household and member
Extensive membership and member participation analysis tools
Rate forecasting and pricing analysis tools
Flexible configuration for over-the-counter fees, self-service fees and periodic service charges and rebates: "Relationship Fees"
ALM downloads
Membership and new account "reason codes" tracking
Full line of inquiry tools for comprehensive "window" into CU operations
Member follow-up ticklers
SEG/Sponsor tracking
Electronic Deposit Holds, including the "Member In Good Standing" system for controlling deposit hold settings
…and much, MUCH more!  Contact CU*South Sales to set up a demo in person today!