Why CU*SOUTH?
The CU*SOUTH Vendor Partner Model
Choosing a traditional vendor to work  for your credit union too often creates a conflict between where you are going, and where your vendor wants to be.
Credit unions find themselves victim to someone else's timeline for development, new product launches, and concepts that are more fit for the vendor's marketing campaigns than real use in a credit union.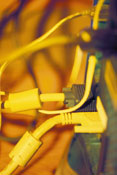 The CU*SOUTH CUSO model unites the service provider with the credit union, as an extension of the credit union's staff.
As a partner, CU*SOUTH shares the underlying goals, strategic challenges, and focus as our credit unions.
 CU*SOUTH is owned by its member clients, just as credit unions are owned by their members. We've chosen this deliberate focus because we believe in the credit union industry, and we're proud to be part of it.
So it's only logical that our focus is on providing the tools credit unions need to support membership and grow their credit unions — and the best way to do that is to develop those tools with our member clients. This allows us to bring products and services to our credit unions that truly meet the needs of the members, minimize costs and stay ahead of the curve in techonological advances.
Traditional vendors tend to decide what their best practices are by first evaluating them for profitability.  Redundancy, security, internal auditing and compliance with industry standards need to be the foundation of a data processor's solution — not poorly funded line items added on the back-end of the business plan.
 The CU*SOUTH model works with credit unions, examiners, auditors and industry professionals to ensure that its best practices pass the test. We build out from that framework, and it is integrated into everything we do.
With truly authentic and well-considered best practices as our starting point, we not only take pride in our model but find it makes smart financial sense for CU*SOUTH and our credit union clients to do it right, right from the start.
CU*SOUTH resources are focused on a first-to-implement policy, consistently moving CU*SOUTH's clients owners forward to new strategies and offerings. This is possible through the development of products that are comprehensive, diverse and driven through the creative configuration of a completely integrated  standard product, rather than the mix-and-match, a la carte options of traditional vendors.
CU*SOUTH processes are developed with the complete participation of CU*SOUTH client owners and their staffs. While credit unions choose the pace at which they participate, no credit union is left behind due to access being based on investment or prohibitive pricing. All credit unions participate in CU*SOUTH returns.
With our CUSO's one-member, one-share investment every credit union is on an equal footing in driving success and sharing the rewards.
Ownership Changes Everything
The CU*SOUTH model is challenging traditional expectations and proving that size, the amount of capital available for investment, or a stranglehold on the credit union market no longer ensures success for any vendor. Nor do size and capital limit any credit union's individual opportunity for success.
Partnership, shared equity, and mutual goals win in the end; and when credit unions have the right tools to serve their members — tools they've developed, and own — they build their credit unions, support their CUSO partners,  and fulfill the mission of the credit union industry.